When Gianna was 12 years old, like other members of her family, she became involved in Catholic Action. Catholic Action was a movement whose aim was to mobilize the Catholic laity to live a more intense spiritual live. This would in turn inspire many and varied types of charitable and apostolic work on every level of society. Gianna took the program to heart and lived it to the fullest: Eucharistic devotion, apostolic action, and heroic purity.
In this atmosphere, Gianna's resolutions strengthened and matured. While attending the university, Gianna became a leader in Catholic Action. All of her free time was devoted to apostolic work. She planned conferences, retreats, and excursions for the younger girls. Although wartime made this mission very difficult, Gianna persevered and worked untiringly for the good of souls who more than ever needed spiritual strength. Many of the individuals she was involved with or served testified that they rediscovered their faith in God through Gianna's example.
Gianna's words reflect how much she internalized what she had learned in Catholic.
Action:


"Do not be afraid to defend the honor of God, to defend the Church, the Pope and priests. This is the moment to act. We must not remain indifferent in the face of the enemy's campaign against religion and morals. We of Catholic Action must be the first to defend the sound foundation and the sacred Christian tradition of our homeland.,,,,,
Would you be willing to give your lives for Christ the King? You Who say 'no' to your eyes, to your gluttony, you who find the difficulty to help around the house or to pray for a few minutes…?"
Taking some of the younger members with her, Gianna would visit the poor and sick in their homes, bringing them food and medicine and attending to the housekeeping.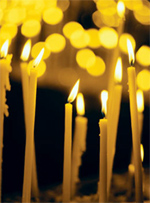 While in her youth and young adulthood, Gianna lived the service of Catholic Action. The young girls were attracted to her by her shining example of self-sacrifice and prayer; they eagerly sought her advise and followed her suggestions. Gianna was frequently elected to positions of leadership and trust in Catholic Action. In the three years before her marriage, she was both president and delegate of her whole area.
To assist others with their mission, Gianna offered her own program of spiritual life:
Morning & Evening prayers, not in bed but on your knees
Holy Mass
Holy Communion
Meditation, at least 10 minutes
Visit to the Saint Sacrement
Holy Rosary, without Our Lady's help no one enters Paradise

GIANNA LIVED THE CATHOLIC ACTION MOTTO THE REST OF HER LIFE

PRAYER ----- ACTION ------ SACRIFICE