On February 20th, 1955, Gianna accepted Pietro's proposal of marriage. In her first love letter to Pietro, Gianna confides her desire to attain a level of trust that will allow them to understand each other more and more each day and to love each other always
.
The couple joyfully explored their mutual love. On March 7, 1955, Pietro wrote in his diary: "The more I know Gianna, the more I am convinced that God could not have given me a greater gift than her love and companionship."
Gianna & Pietro were busy planning the details of the wedding. They brought furniture for their home and planned for their new life together. Gianna looked eagerly to the future, having no doubt about her place in the world. She was certain that marrying Pietro was indeed her vocation.
Gianna's personal notes provide insight into her ideas on vocation:
"Everything has a specific end: everything obeys a law. God has shown each one of us the way, the vocation, and the life of grace that lies beyond physical life. Our earthly and eternal happiness depends on following our vocation without faltering. What is a vocation? It is a gift from God–it comes from God himself. Our concern then, should be to know the will of God. We should enter into the path that God wills for us, not by "forcing the door," But when God wills as God wills…."

During the last few months of their engagement, Pietro was away often on business trips. The couple stayed close together through the many letters they wrote to each other. They continued to experience a "spiritual togetherness" despite the many miles that separated them.
Gianna selected the best and most beautiful material that she could find for her wedding dress. She said to her sister:
"Do you know, I want to choose the most beautiful material because afterwards I would like to make a chasuble from it for the First Mass of one of my sons." **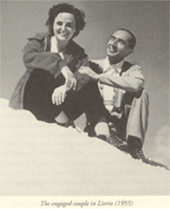 On the night before their wedding, Pietro gave Gianna a gold watch and a pearl necklace along with a love note:
"Gianna, let these crown the wonder and the brightness of your beauty and your virtues on our wedding day. May the watch always mark the loveliness and most peaceful times of our life, and may this pearl necklace be a sign of the enchanting light of our love. They are given to you, with great affection, by your mother and my mother, and by your Pietro
with the greatest love.